Cyclo UV 510c Air Purifier
ON SALE! Sale price: $399
Reg price: $499
The Cyclo UV Air purifier: 510C is a portable unit. It can be positionned on the room of your choice.
Key features:
4 manual fan levels
Turbo mode
With automatic function to adjust the cleaning performance to the ambient air
Timer function (1-24h)
With an air low rate up to 206 CFM
Replaceable filter with filter change indicator
Displays the timer, temperature and relative humidity
2 years guarantee
Works with the app Tuya Smart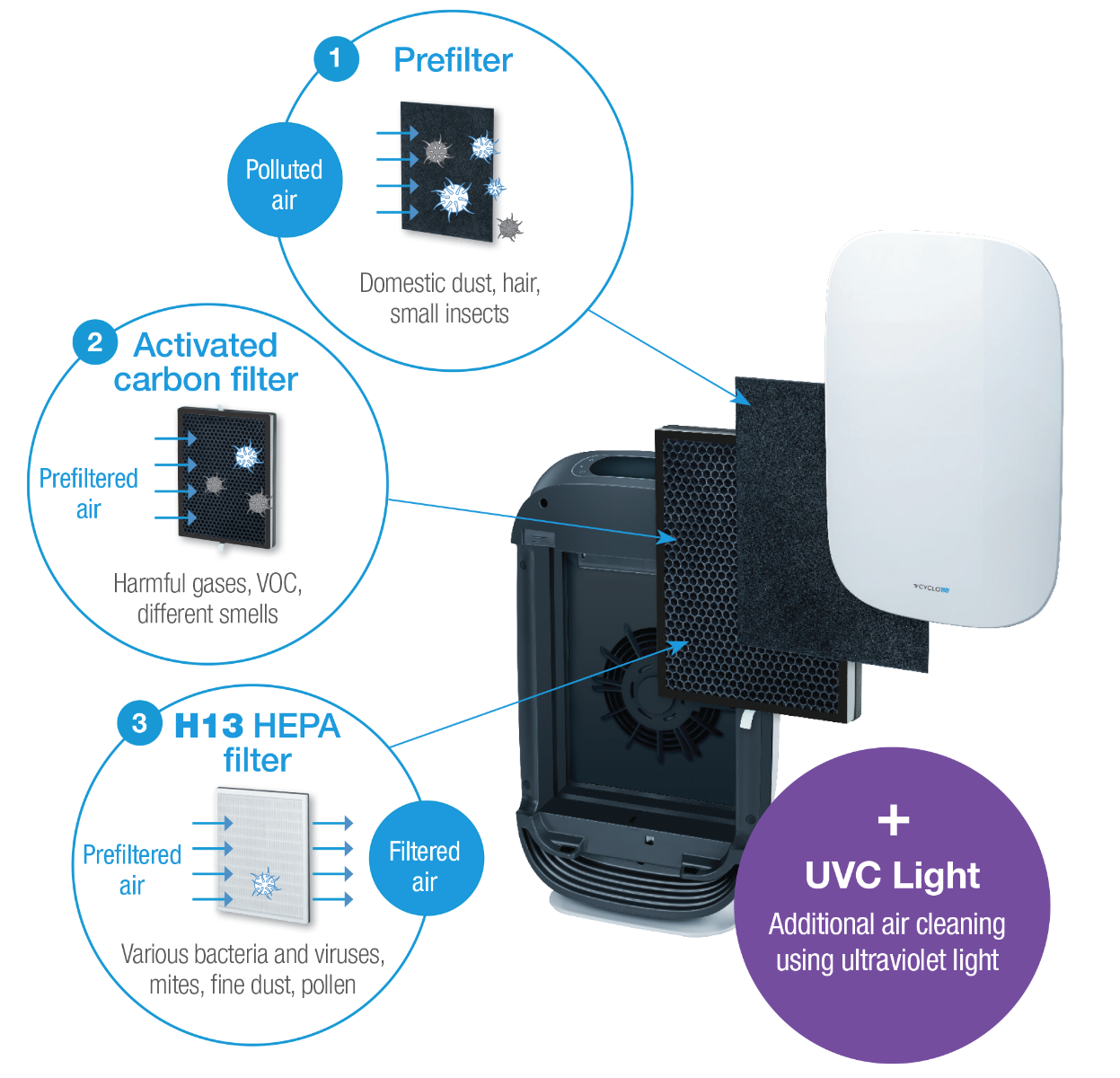 3 Steps of filtration including a HEPA H13 High performance filter
The UVC model represents the latest in UV air purification. Once installed in the return air vent or ductwork of ventilation and AC systems, the unit destroys airborne organic and chemical contaminants and uniformly cleans the air throughout the home.
Function principle of the air purifier: Domestic dust, animal hair, smells, pollen, harmful gases and various bacteria and viruses are filtered and cleaned out of the air using a triple-layerfilter system and the UVC light.
Features
With Tuya Smart app
Convenient control and monitoring of ambient air both at home and on the go via the Tuya Smart app.
Additional air cleaning using a ultraviolet light(neutralizes virus and bacteria).
Night mode
With night mode: ultra-quiet operation and dimmable operating panel.
Clean Air Delivery Rate
CADR 350 – for rooms† up to 1,545 ft2 †.
Air quality indicator
With 4 colors changing according to the current air quality.
Ionization
More than 3 millions/cc of negative ion power.
---
Warranties for your peace of mind
This model comes with a 2 year warranty*.
*Indoor use only. See details in owner's manual.